Next student intake will be in September 2023. Accepting new students until September 27.
If you are new to kendo, then the Adult Beginner kendo class is for you! This class aims to teach you the kendo basics necessary to practice in bogu (kendo armor). You will learn etiquette, footwork, and how to hold and use the shinai (bamboo sword). In addition, you will learn how to swing the shinai and perform a variety of waza (techniques) to strike an opponent. Finally, you will demonstrate your skills in front of an in-club grading panel and, if you pass, you will be permitted to purchase and wear your own bogu. The duration of the course takes around 4-6 months with gradings held at the discretion of the instructors.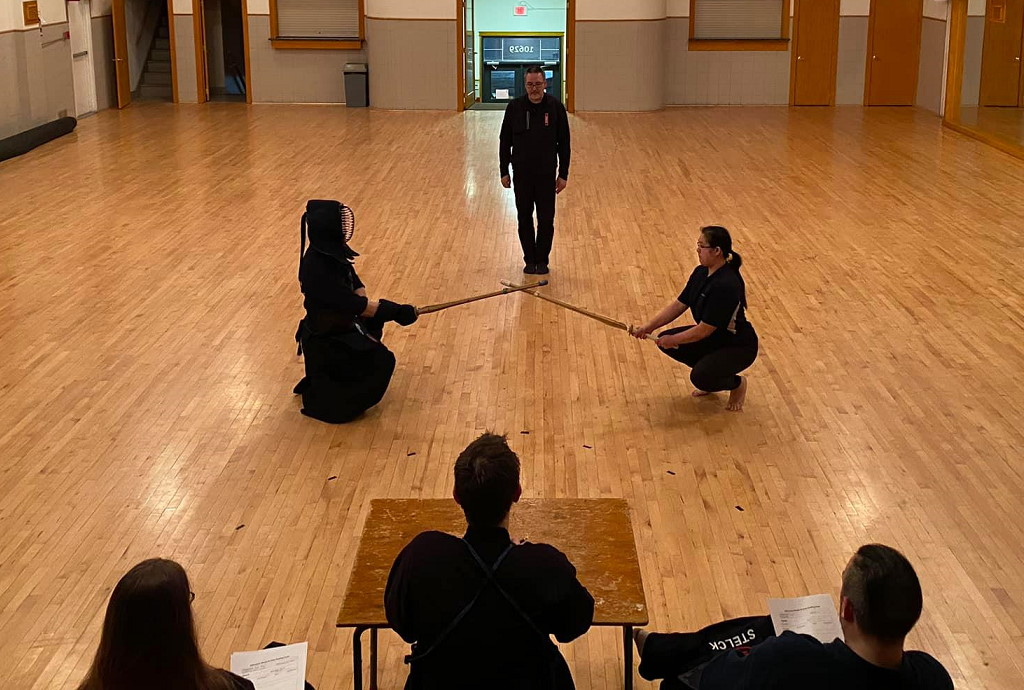 Frequently Asked Questions
Q: How old do I need to be to join this class?
A: We accept new students 14 years of age and older. That being said, it is certainly not limited to young adults. Kendo is a martial art that can be practiced by all ages. In fact, our bogu class includes everyone of different ages, genders, and skill levels because we believe we all have something to learn from each other.
Q: Can I watch a few practices to see if I like it?
A: Certainly, in fact we encourage it! Please check the website calendar to see when the next practices are held. There are usually a few senior students around to answer any questions you may have.
Q: Do I need to buy any equipment to start?
A: No. Please come dressed in gym clothes and bring a water bottle. Note that we do everything in bare feet so indoor running shoes are unnecessary. In the second month of practice, you will need to purchase a shinai (bamboo sword) and a uniform in the third month. The cost is approximately $40 and $110 respectively.
Q: What if I cannot attend classes on a certain day?
A: Please notify the instructors if you are unable to attend any class. The content is cumulative and so missing multiple practices may impact your learning progress.
Q: Why are your fees so low compared to other martial arts?
A: Our fees are low because our instructors are not paid for instruction time. It is very much in the kendo philosophy that we give generously of our knowledge and experience to everyone who wishes to pursue the martial art. Instead, your fees go directly to paying for practice space and general club operations.
Q: Can I also practice Iaido too?
A: You are welcome to enroll with the Edmonton Iaido Club so long as their practice times do not overlap with your kendo classes. The association offers a 50% discount to members attending both kendo and iaido classes.